:: shout it out tour :: the hi-fi sydney :: september 15 2012 ::
This was written very early in the morning the day after I saw Hanson at the Hi-Fi, and was originally posted in my LiveJournal on September 17 2012 – I have left this entry unlocked and enabled anonymous commenting, so please feel free to leave your thoughts.
---
Holy shit. 'Amazing' does not even begin to describe Saturday's Hanson concert. I was hurting afterward – hanging around at the venue for ten hours and being on my feet for 95% of that time has that effect – but being part of the audience at the first Hanson show in Sydney since May 2005 was absolutely incredible.
It was a very early start for me though – I woke up at 4:30am. At least I didn't pull an all-nighter this time, so that's something at least. My alarm wasn't even due to go off until 5am. So I killed a bit of time on Twitter until it was time to get dressed and head up to Wollongong to catch my train to Sydney. Breakfast was hotcakes from McDonald's – the first time I'd had them in well over ten years, since an overnight stop in Armidale all the way back in 1999 – and I spent a little time wandering around Wollongong Woolworths before catching the Gong Shuttle to Wollongong station. Left Wollongong at around a quarter to nine, and settled in with my iPod and a book for the trip to Sydney.
Getting to my hotel was a bitch and a half though. I got to Museum station okay, and then I made the mistake of asking a passerby if they could point me toward Wentworth Avenue – I have Google Maps as an app on my phone, so I should have used that instead. The fuckwit I asked sent me all the way around to St James station, when in reality my hotel was in the other direction! >_< But I did make it there eventually, checked in early and headed off to World Square for a little while. Was only there for about half an hour or so before I went to meet up with my friend Donna for the first time – we ended up catching a taxi to Moore Park together. Got to Moore Park and in turn the Hi-Fi at around one-thirty, got our numbers for the line-up for MOE, and met up with a few other people while we were waiting. It was a long wait, but talking with the other Hanson.net members who were attending MOE helped to pass the time. I even got recognised quite a few times because of the hat I was wearing – I wore it to Sydney on Tuesday as well, and I guess it's sort of become my 'trademark' in Aussie Hanson fandom. It got pretty warm while we were waiting as well – I wasn't expecting the weather to turn out the way it did, especially considering it had been a little nippy earlier (to the point where I went back to the hotel to grab my hoodie). And there wasn't a cloakroom at the venue so guess who was stuck holding her hoodie until the end of the show?
We got let in for MOE just before ten past five (they went along the line checking us in about an hour before that) and because I got there so early I had a prime position – three rows from the stage! :D I had the sense to type up the set list on my phone, because I wanted to make a playlist in iTunes with the songs later on. Two of the songs were from Facing The Blank Page, the rest bar one were from No Sleep For Banditos.
1.
Chasing Down My Dreams
2.
Sunny Day
3.
Be My Own
4.
Get Out Of My Heart
5.
Up All Night
6.
Heartbreaker
7.
Rock 'n' Roll Razorblade
MOE was, in one word, epic. :D I feel pretty privileged to have attended it – it was the first one ever to be held here in Australia. The guys did a quick Q&A session before doing the group photos, and I got to thank Taylor, in person this time rather than just on Twitter, for taking a photo with me on Tuesday morning. Even showed him the photo on my phone (it's my current wallpaper). :D I was standing right in front of Taylor for my group photo, and he put his hands ON MY SHOULDERS. :D *gets a little fangirly* We got kicked out of the venue after that and went out to join the line of Hanson.net members – it was a pretty long line too by the time I got to it, but nowhere near as long as the line for general admission. Wasn't waiting for too long thankfully, and we went back inside for the proper show once doors opened at around 7:30pm.
I'm going to admit something here – I wasn't expecting Hanson's opening act, Matt Wertz, to be any good. I didn't bother to look up any of his music, purely because I didn't want to be disappointed. But he's really good! :D Bit of a looker as well. He played for 45 minutes, getting us nicely worked up for the headliner, and I am definitely going to look him up on YouTube when I get home.
Hanson hit the stage a little while after 9:30pm, and proceeded to play for nearly two hours. Twenty-one songs all up, including one cover – they played songs from all five albums. :D Typed up the set list for this one as well.
1.
Waiting For This
2.
Where's The Love
3.
And I Waited
4.
Thinkin' 'Bout Somethin'
5.
A Minute Without You
6.
Georgia
7.
Crazy Beautiful
Acoustic set:
8.
Strong Enough To Break
9.
Madeline
10.
Wish That I Was There
11.
With You In Your Dreams
12.

Oh Darling (Beatles cover)
13.
Thinking Of You
14.
Get Up And Go
15.
Penny And Me
16.
This Time Around
17.
Give A Little
18.
MMMBop
19.
Lost Without Each Other
20.
Hey
Encore:
21.
If Only
Taylor spent pretty much the entire show working us into a complete frenzy, just like always, and he actually swore onstage. *snickers immaturely* He said about Give A Little, and I quote, that we Aussies "requested the shit out of it". Which we Street Teamers did. :D The show wound up at around 11:15pm, and I waited in line to get merchandise before saying "fuck it" and deciding to get it tomorrow night at the Enmore. I'll go during intermission.
I am in a hell of a lot of pain (I can barely walk because my feet are so sore), I'm absolutely exhausted and for a little while afterward I couldn't hear much. But I had so much fun – it was so incredibly worth the seven-year wait for my second Hanson concert. :D And I get to do it all again at the Enmore tomorrow night! The difference is that one, I have a seat this time, and two, I'm not attending MOE beforehand so I don't have to get there until about an hour before the show. I'll actually be able to have dinner before the concert, something I didn't get to do tonight.
I've been up for nearly twenty-four hours now so time for me to get some sleep. I'm definitely taking it easy tomorrow.
---
This concert was the first true test of my digital camera. It held up pretty damn well. :D For the curious, my camera is a Panasonic Lumix DMC-FH1.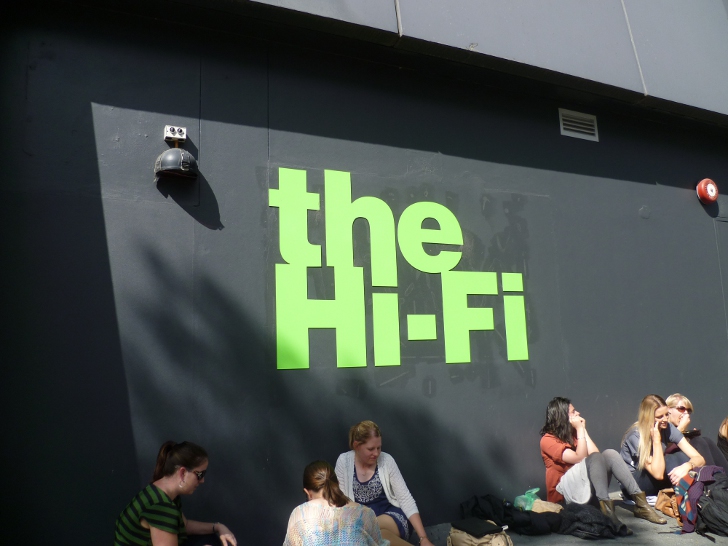 Taken upon arrival at The Hi-Fi.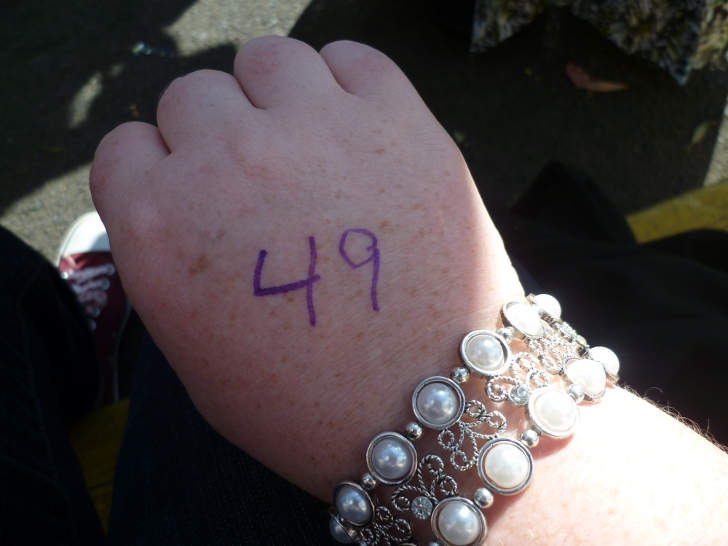 My number for the MOE – 49. There were over THREE HUNDRED Hanson.net members at Saturday's MOE, so I'm very glad I arrived as early as I did!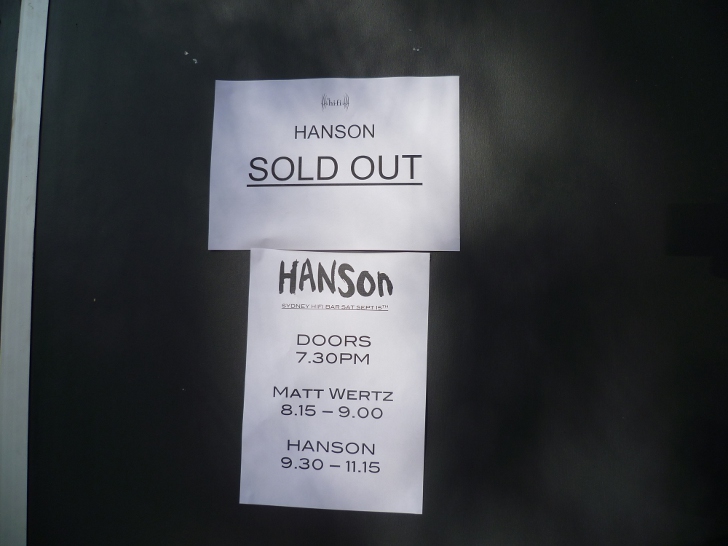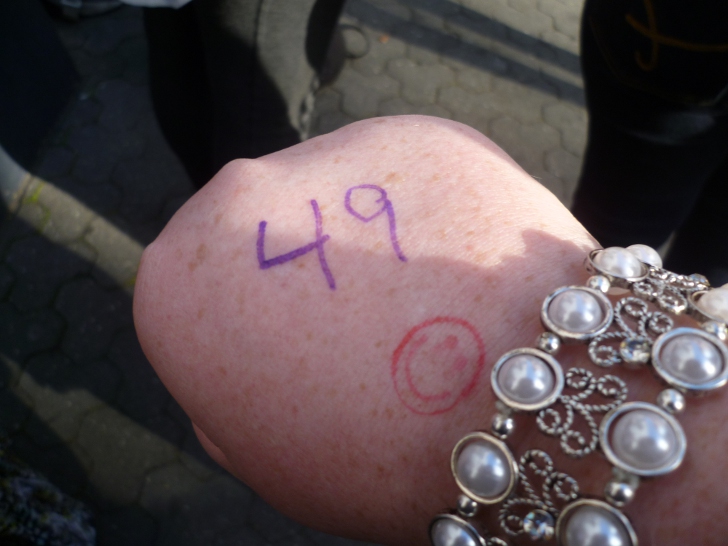 The stamp I got to show I'd been checked in and had my name crossed off.
I love the stage backdrop for this tour. :D Took this photo right before the MOE started - this is how close I was to the stage.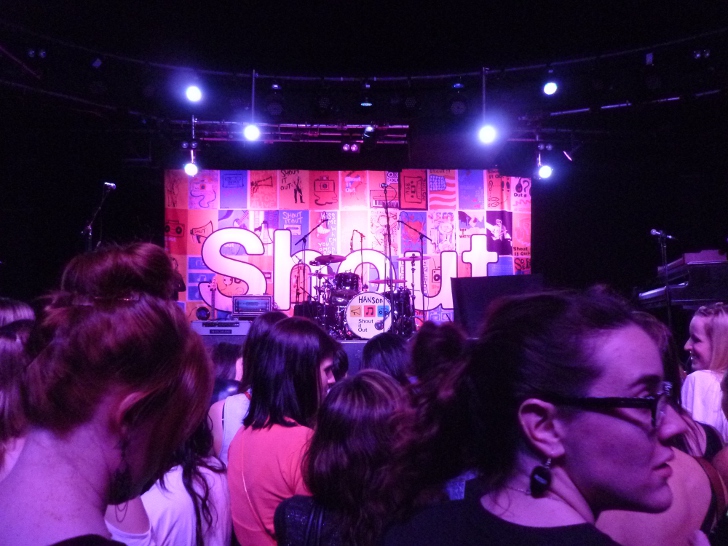 Inside the venue for the show itself. Was a bit further back than I was during the MOE, but I still had a decent spot.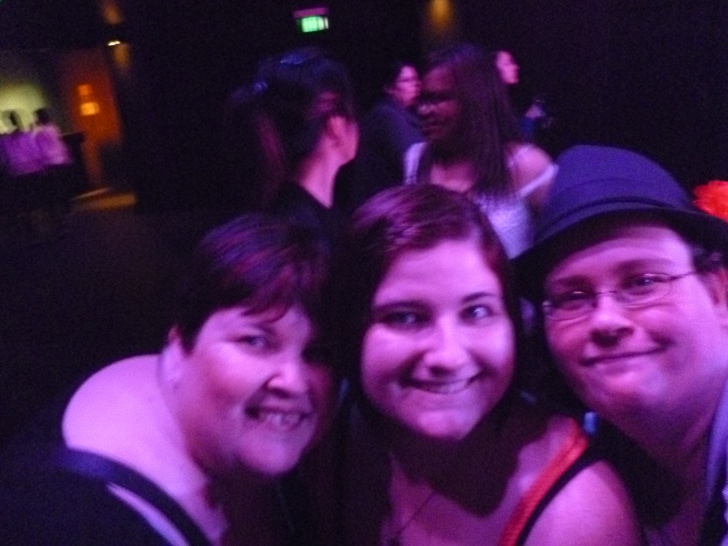 Me with my friends Donna (left) and Meghan (middle).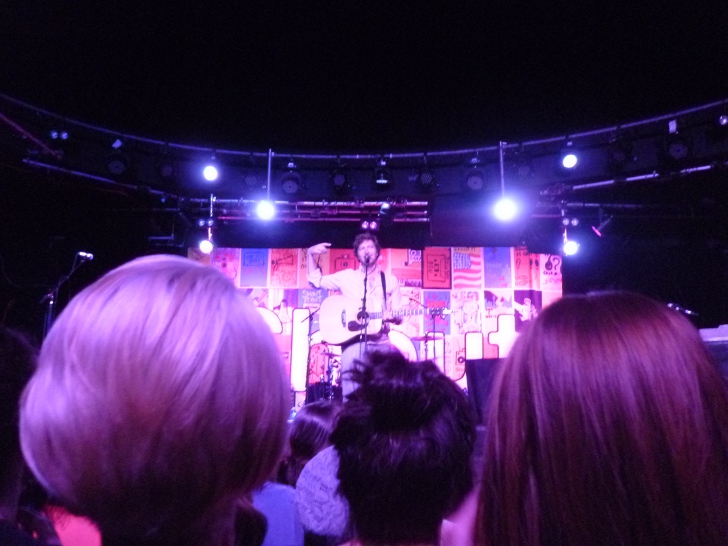 Matt Wertz taking the stage.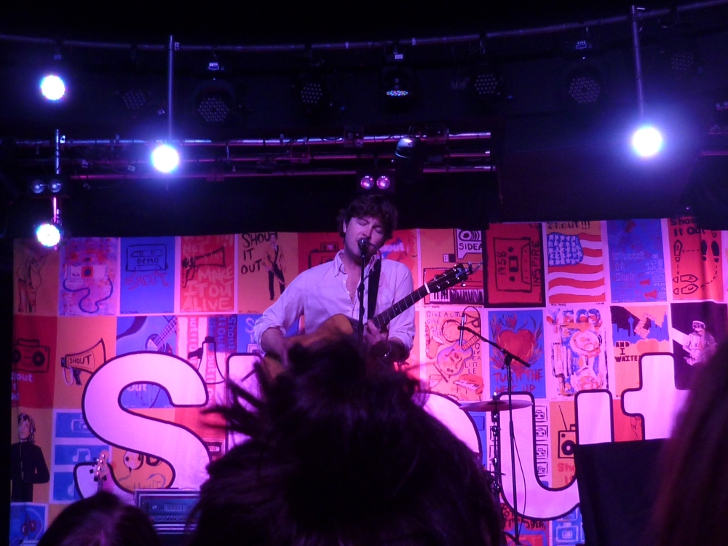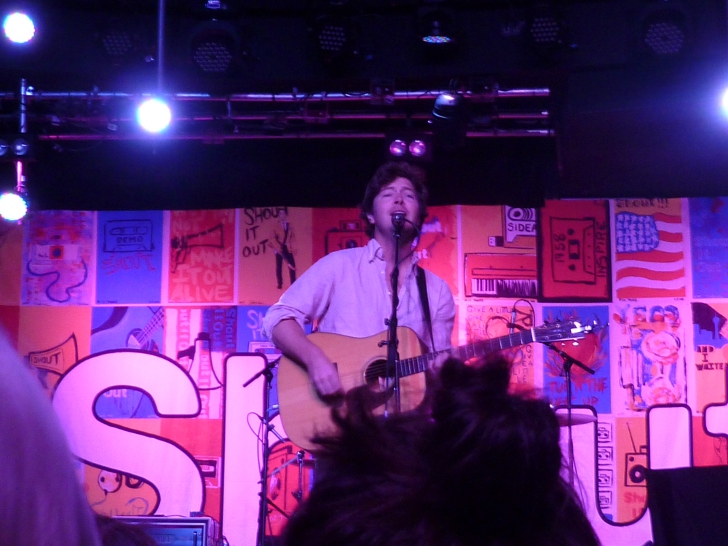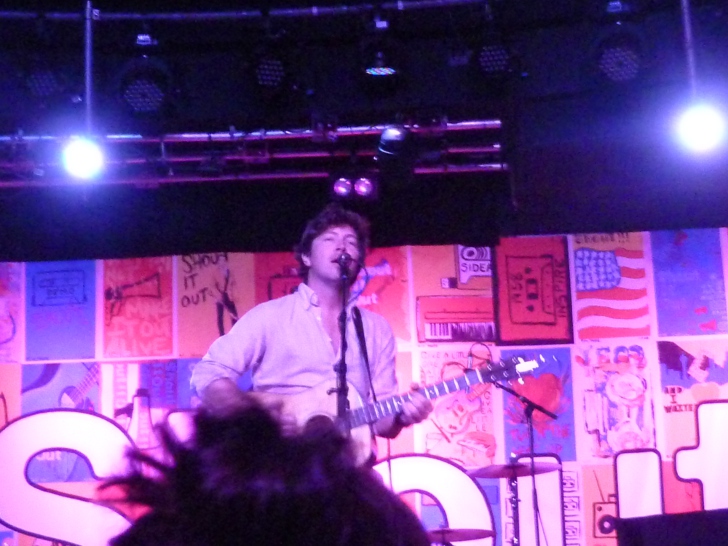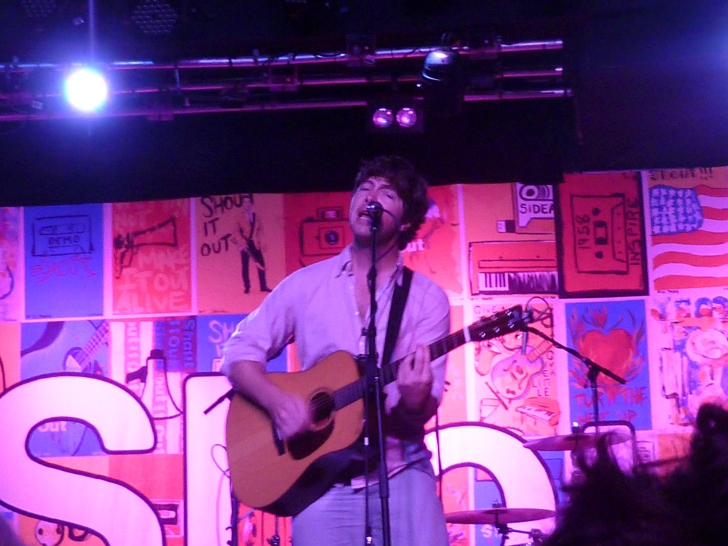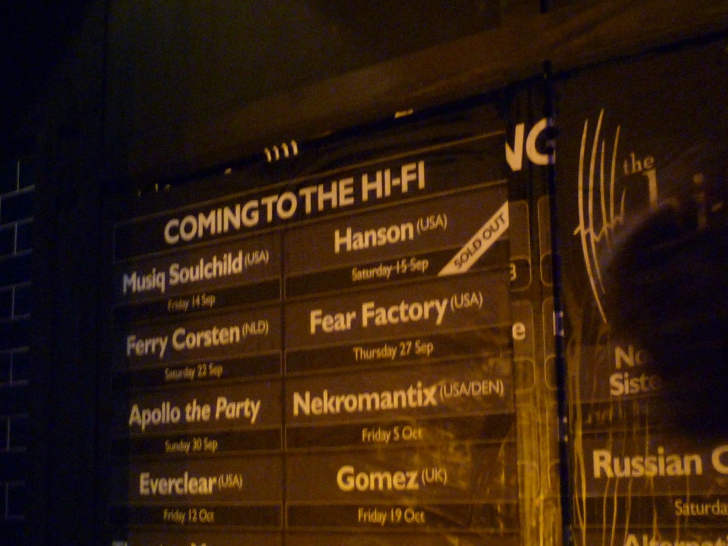 Took this while I was at the bar during intermission getting drinks for Meghan and I.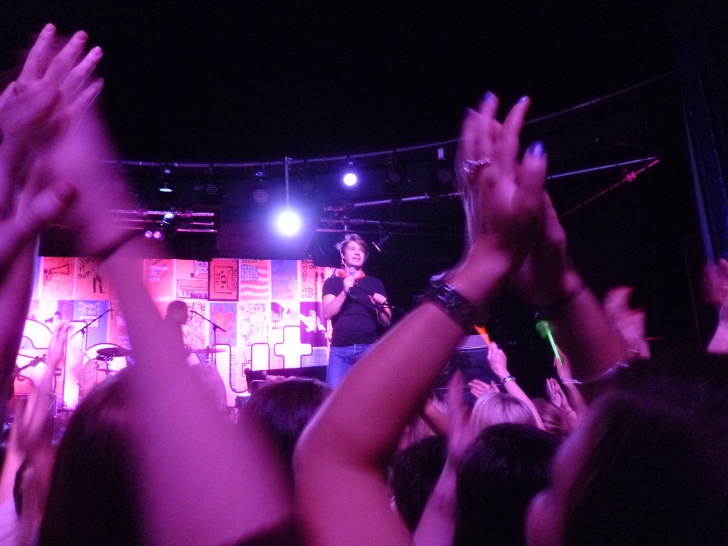 Hello there Taylor Hanson :D
I like that Isaac didn't wear a suit on Saturday night. He looks really good in them, but he also looks damn good in jeans. :D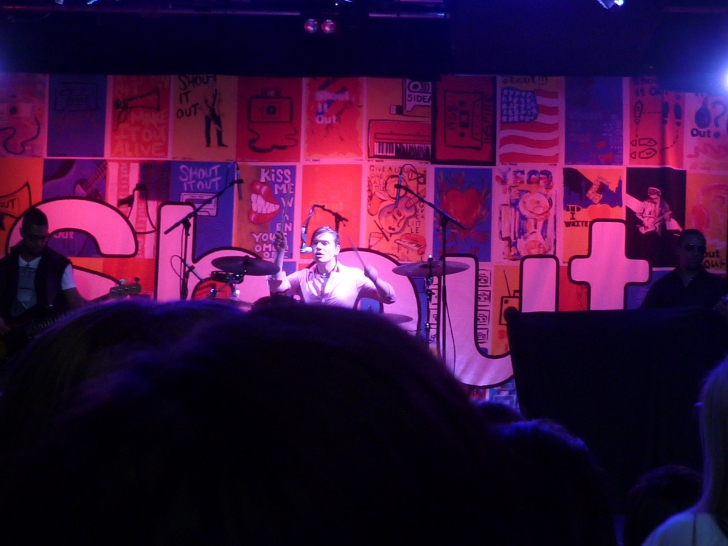 Zac at his drums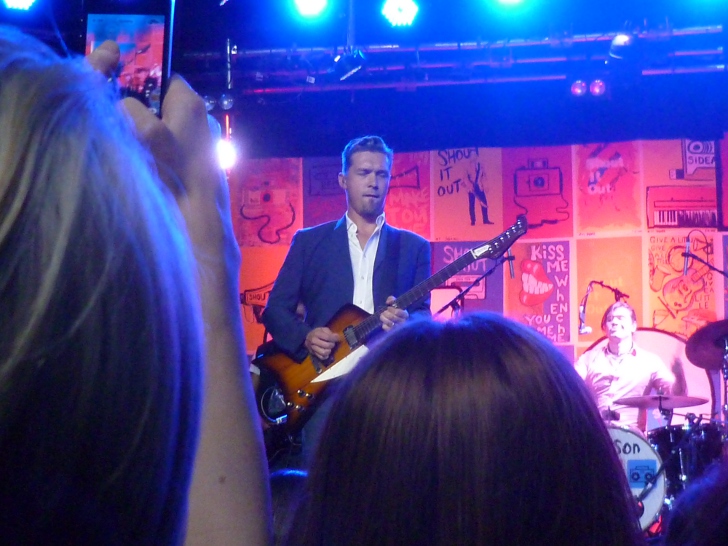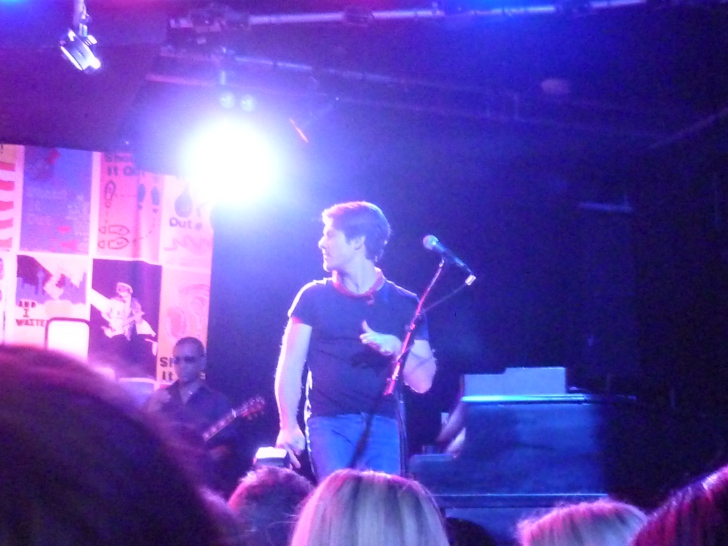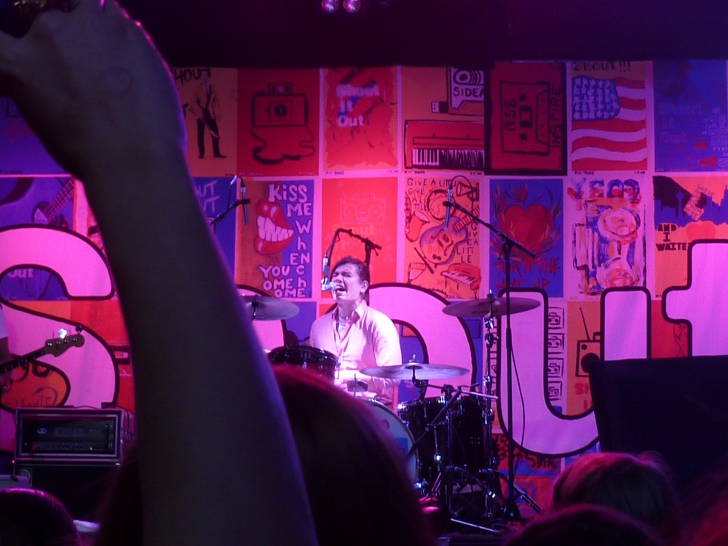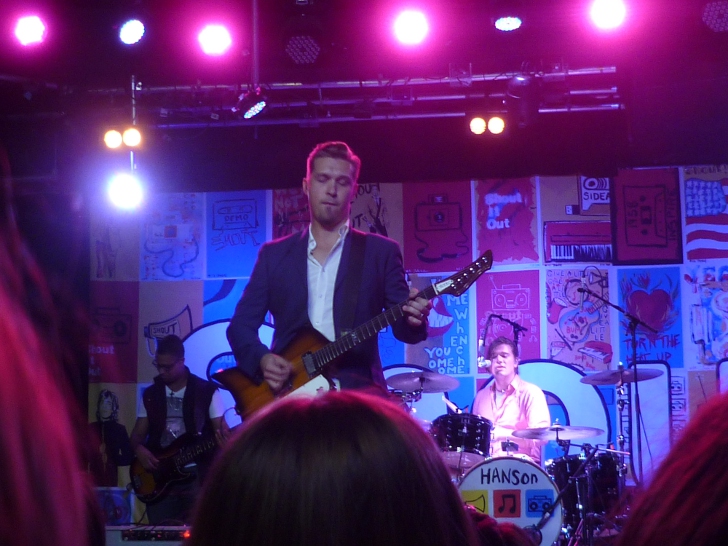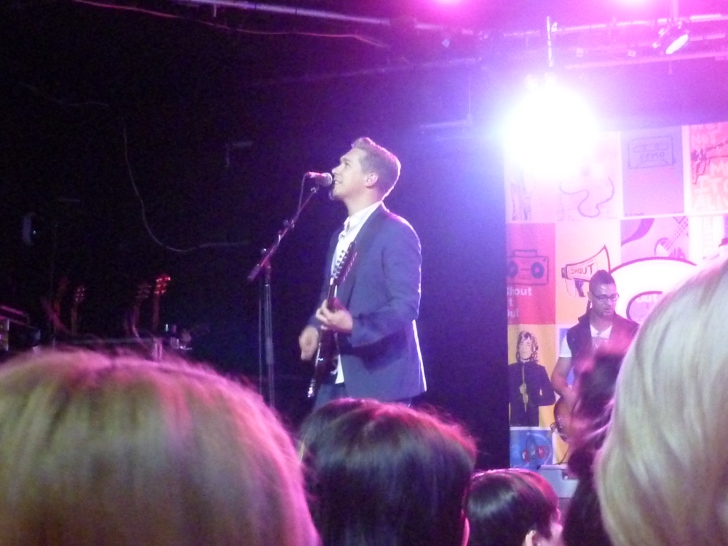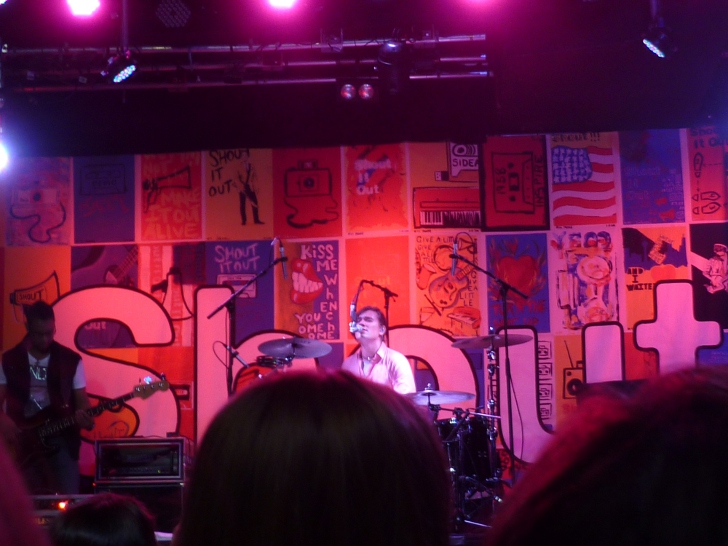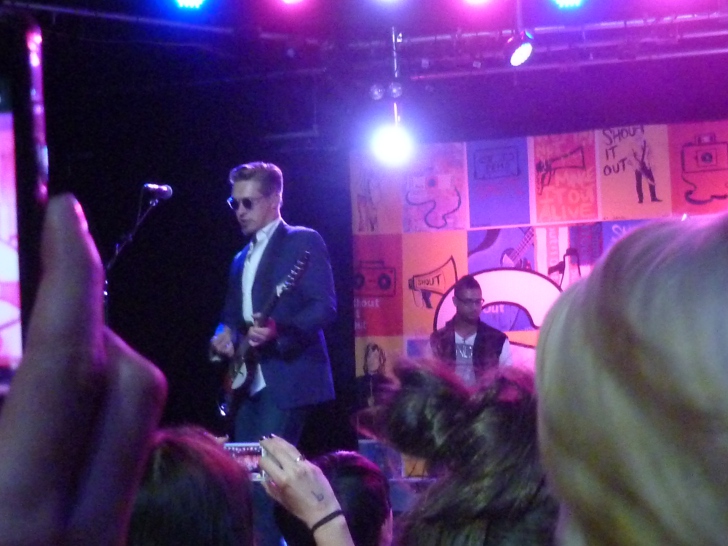 The beginning of Thinkin' 'Bout Somethin'. This one got us all very excited. :D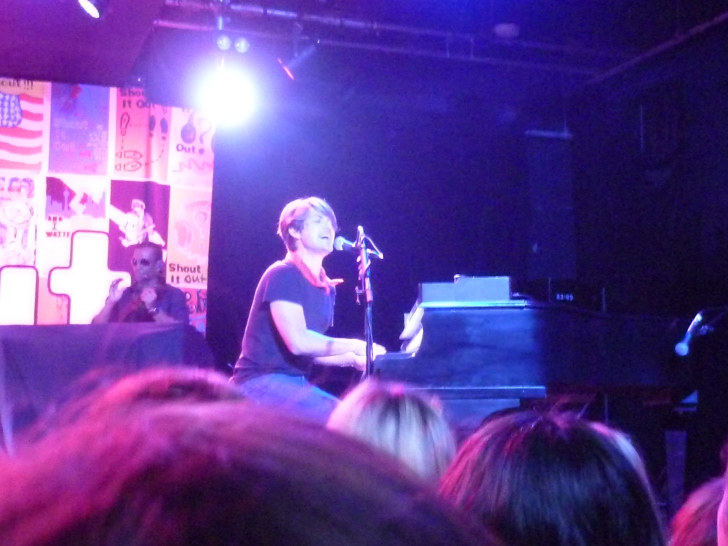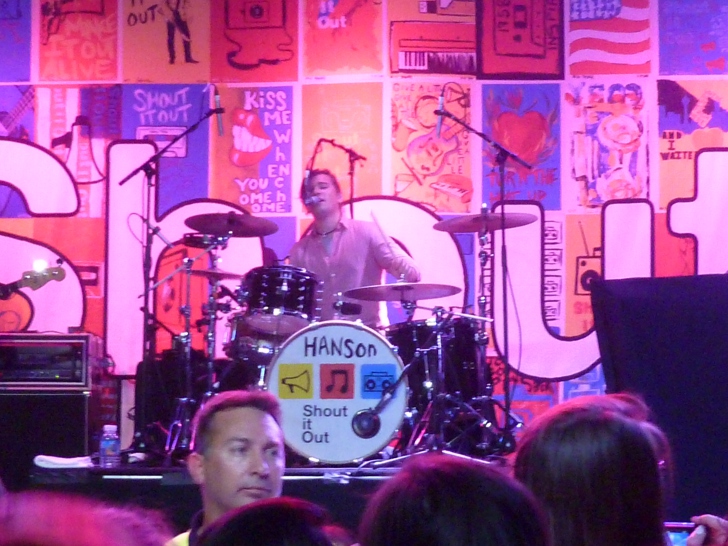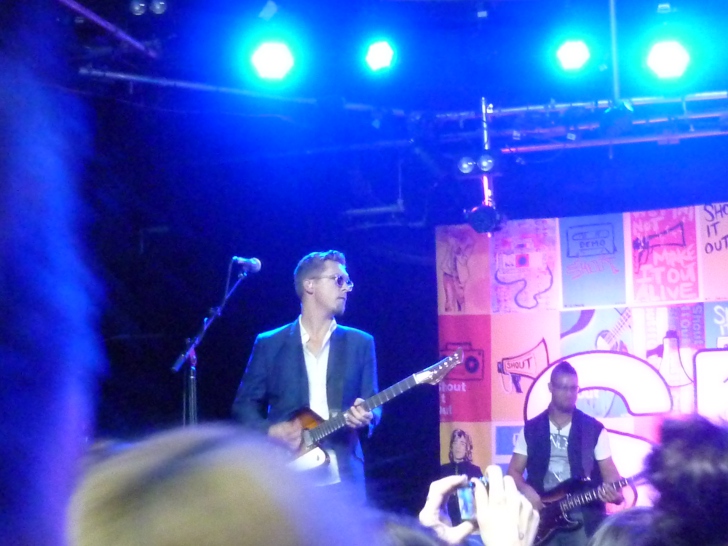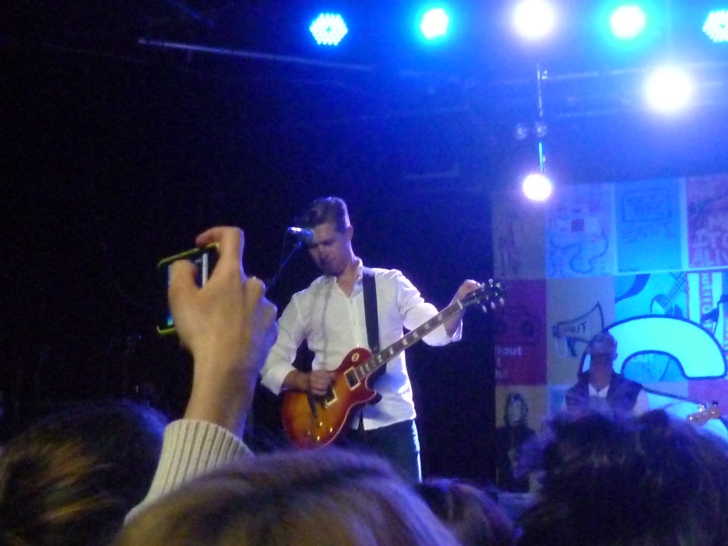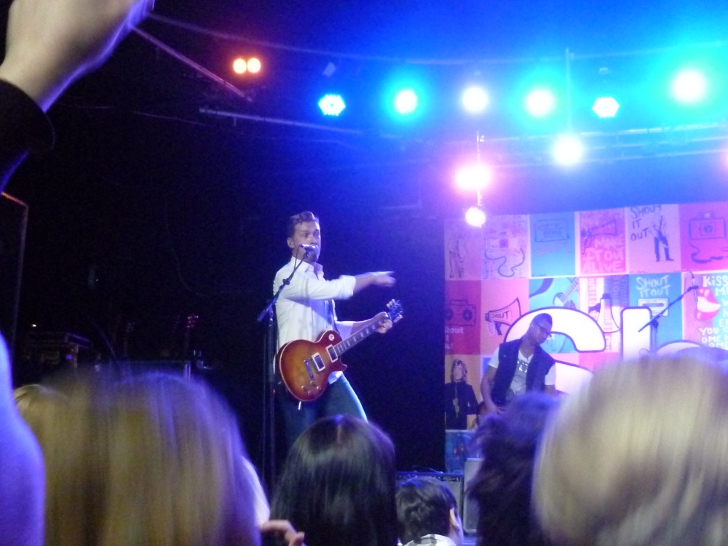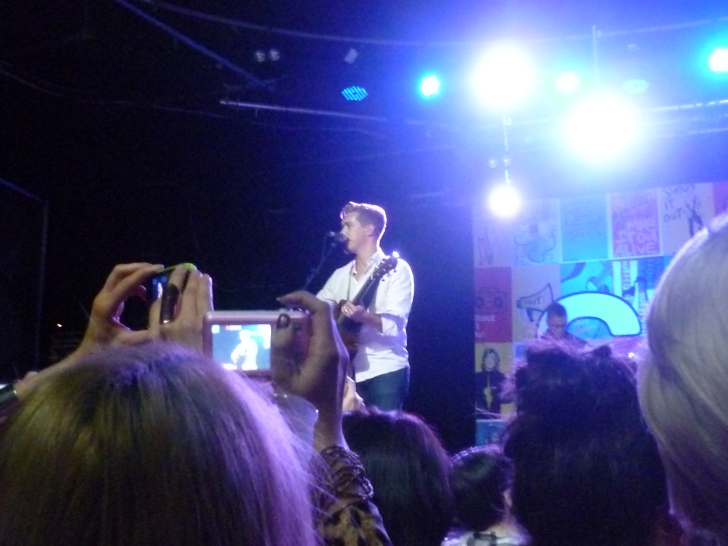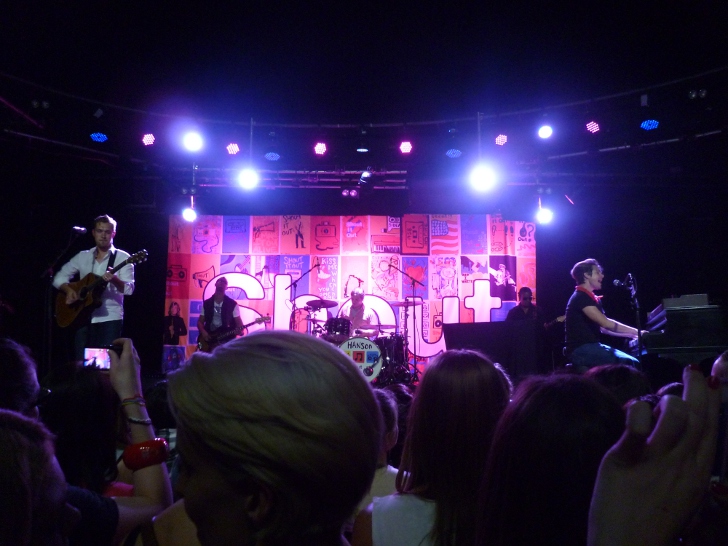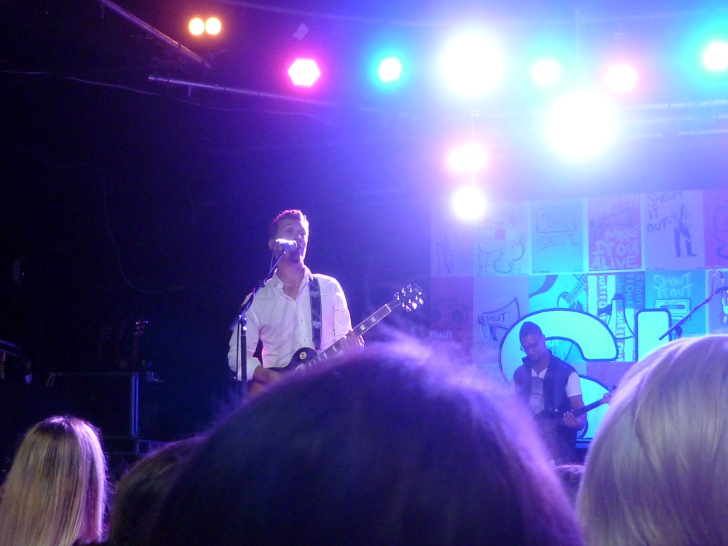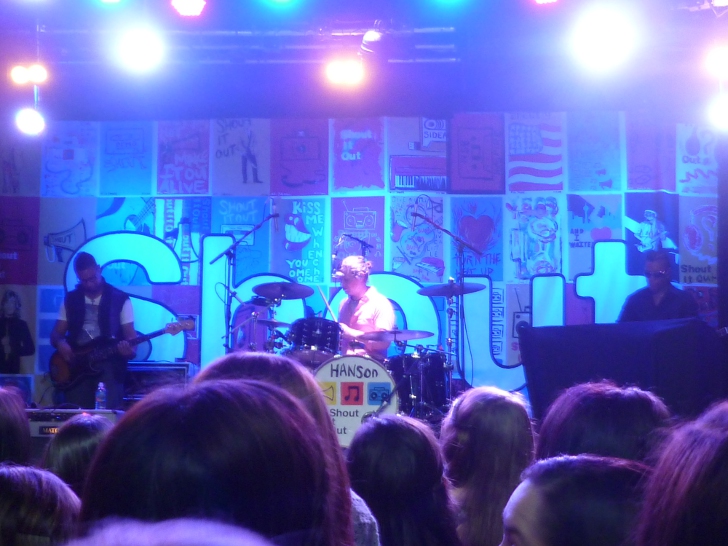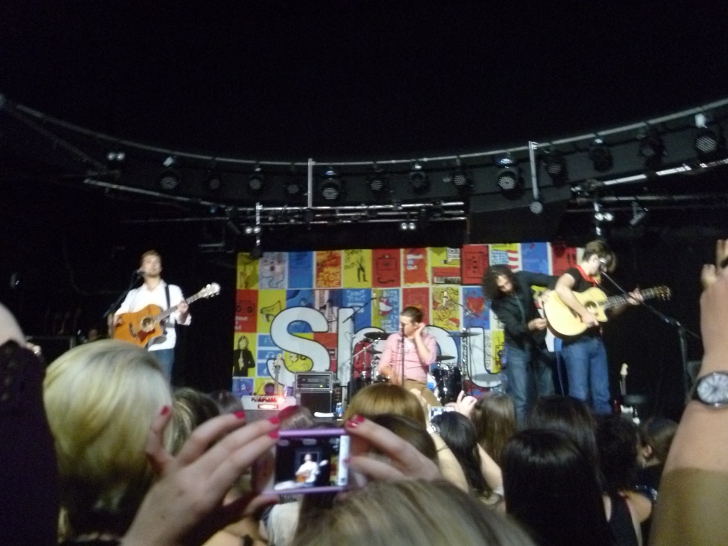 Getting ready for the acoustic set