:: shout it out tour :: enmore theatre :: september 16 2012 ::
This was written on the morning of September 17 2012, and originally posted in my LiveJournal that afternoon – I have left this entry unlocked and enabled anonymous commenting, so please feel free to leave your thoughts.
---
I honestly didn't think any show could top Saturday night's. It was exhausting and painful, yeah, and I couldn't see a lot, but it was an incredible show.
Sunday night's show at the Enmore Theatre blew Saturday night's show away.
It was another early start – I ended up only getting two hours' sleep, whether out of excitement or something else entirely I'm not completely sure. Woke up around 5am, backed my photos from Saturday night up onto my laptop, and headed downstairs for breakfast at around 8:15am. This is probably my favourite thing about the hotel I stayed at this weekend – free breakfast :D A bowl of Coco Pops, two pieces of wholemeal toast with Vegemite and two glasses of orange juice later I headed back upstairs, turned my laptop back on and read some fanfic from my writing folder (no Internet this weekend unless I wanted to pay for it, and there was no way in hell I was doing that) while my phone charged. The friend I was staying at the hotel with, Sabina, didn't end up waking up until about 11am. Once she was up and dressed we headed out to go shopping. We hit World Square first for lunch and then decided to try and find a Starbucks, partly to get something to drink but also to see if we could spot Taylor Hanson in there (because let's face it, every Hanson fan under the sun knows about Taylor's caffeine addiction). No Hanson sightings unfortunately, but it was nice to go there for the first time in years. I treated myself to a strawberries and cream frappuccino, which surprisingly didn't taste a bit like chalk by the time all the ice had melted away. I haven't had the best luck with Starbucks in the past, so that was a nice surprise.
Pitt Street Mall was our destination after that. I spent a ridiculous amount of money, but it was sitting there on my credit card and I hadn't spent much of it. And $350 is a lot of money to burn through. Bought myself a new handbag and earrings from Rip Curl, new thongs and more earrings from Rubi, and a new scarf from General Pants. We'd been hoping to spot the guys there, especially after Zac tweeted a photo of a chess set he spotted somewhere, but no luck. As it turns out, Taylor had been seen there on Saturday with his camera – he was wearing R.M. Williams boots at the MOE that afternoon (yes, I was close enough to see the tag on his boots :p), so I'm guessing he got his new boots there. We went back to the hotel after that so we could get ready for the concert – showered, made sure we had everything we were going to need (cameras, wallets, tickets, et cetera), and finished charging our phones. Once all of that was done we headed out to Central train station to meet up with my friend Katrina, so that we could hop on a train to Newtown.
I'm going to preface this next bit with a small disclaimer – I have a terrible sense of direction, and I am very bad at reading maps. So of course I managed to get the three of us lost. We ended up taking the long way around to the Enmore. Met up with another of my friends there, Meghan, and decided to grab Italian for dinner at the pizzeria across the road from the venue. The whole time we were eating, the line outside the Enmore started to progressively snake its way down Enmore Road. It was insane. We joined the line at about 7pm or so, thinking it would be another hour before they'd let us inside (as doors weren't scheduled to open until 8pm), but there were so many people waiting that they let us in early. I went straight to the merchandise stand and bought two T-shirts, a bunch of stickers and a poster. Went upstairs after that to find my seat – I was on Taylor's side of the Enmore, as I thought I would be, and I had a fantastic view of the stage with nobody in front of me. I love front row. :D I am very glad I wasn't in the pit for the concert, because it looked insane. Not to mention that I would have ended up deaf before it even began, because whenever there was even the slightest break in the pre-show music this almighty wall of shrieking rose up from the pit.
Just like Saturday, the show kicked off at 8:15 – Matt Wertz was fantastic once again, getting us nice and excited for Hanson to take the stage. I found out on Twitter during his set that Hanson did sell out the Enmore after all – there were still tickets left yesterday, so basically it all sold out right before the show started. Eight shows sold out of a total nine shows is a pretty good achievement.
I think I was half-expecting last night's set list to be the same as Saturday's, so it was a nice surprise to find out that it wasn't.
1.
Waiting For This
2.
Where's The Love
3.
Thinkin' 'Bout Somethin'
4.
And I Waited
5.
A Minute Without You
6.
Been There Before
7.
Runaway Run
8.
Crazy Beautiful
9.
Penny And Me
10.
Madeline
11.
Go
12.
Be My Own
13.
With You In Your Dreams
14.
Oh Darling
15.
Can't Stop
16.
Thinking Of You
17.
This Time Around
18.
Give A Little
19.
MMMBop
20.
Lost Without Each Other
21.
If Only
Encore:
22.
Rock 'n' Roll Razorblade
Go was Zac on the guitar, alone on the stage (he let us pick whether we wanted to hear it on the piano or the guitar, and the guitar got the loudest cheer), and Be My Own was Taylor's solo. And both Rock 'n' Roll Razorblade and If Only got the balcony rattling. :D
Possibly my favourite part of the show, apart from Taylor's solo and Isaac doing a guitar solo on his knees? Both the Hanson.net members and the Australian Street Team got shout-outs. Last night was the very first time that any of the Hanson Street Teams (and I do mean any) had received a mention from the band during a show – it makes me so incredibly proud to be a part of it. We worked hard getting the word out about the tour over the last five-and-a-half months, and to be acknowledged by the guys for that was truly amazing. They also promised that if we (meaning the fans) come back to see them again, then they'll come back too. So maybe we'll get another tour a lot sooner rather than later.
This has pretty much been the best weekend ever. I wish it hadn't ended, but in a way I'm relieved to be going home. I'm sore, I'm exhausted, and I'm looking forward to sleeping in my own bed tonight. I'm going to pack up my belongings now so I can check out, go find a post office so I can buy something to put my poster in to protect it, and then I'm off to the train station so I can catch my train home.
---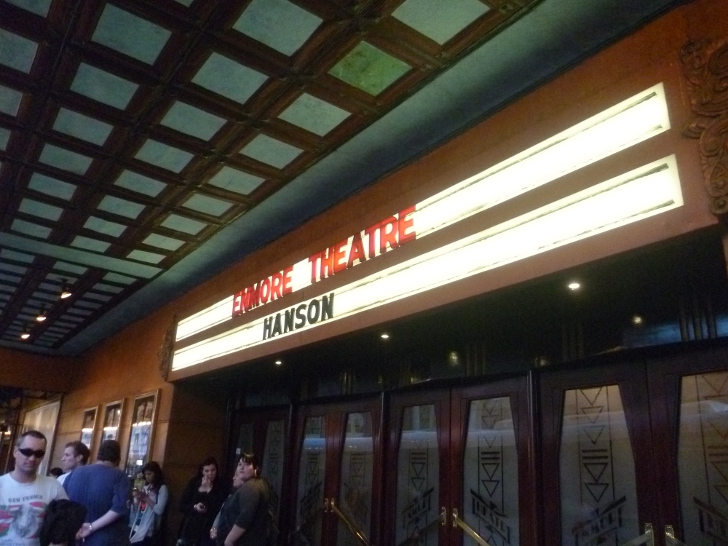 This was where I saw Hanson for the first time, all the way back in 2005. It was nice to go back there for the tour's second Sydney show.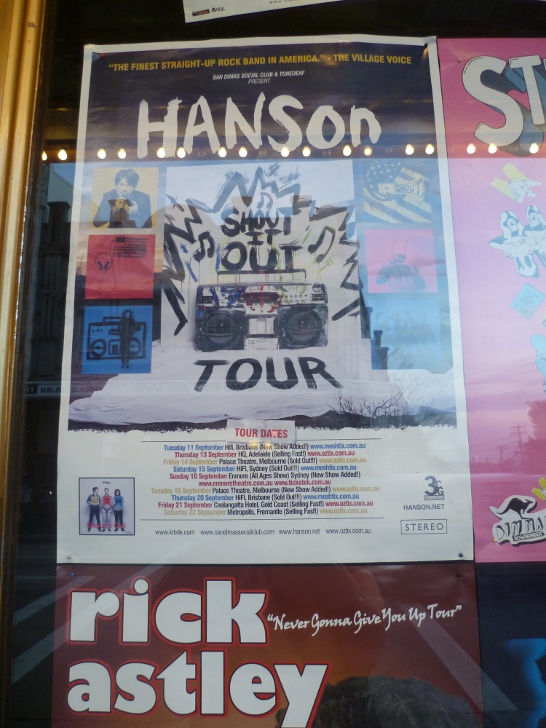 The official poster for the Australian tour.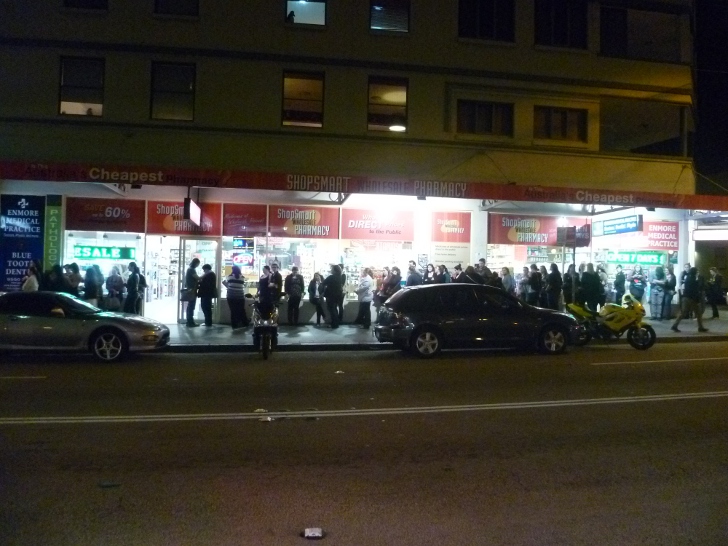 This line formed as I was eating dinner with some of my friends -- and that was only one of them.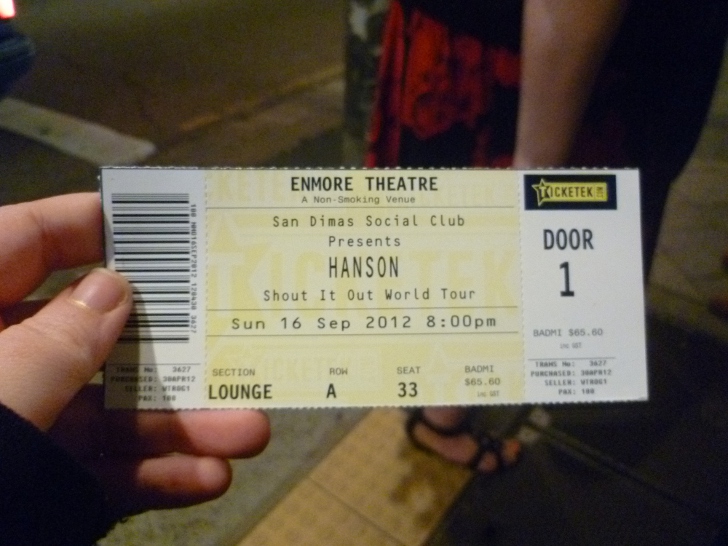 My ticket.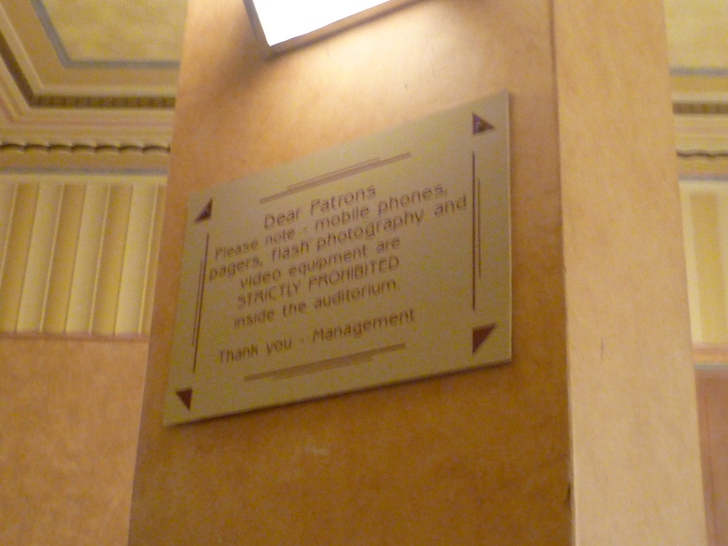 No prizes for guessing what just about everyone in the audience spent the show doing :p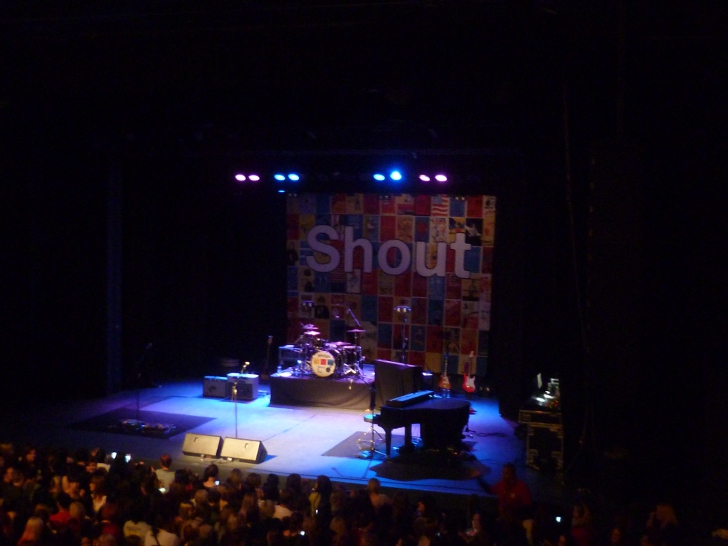 The setup for last night's show.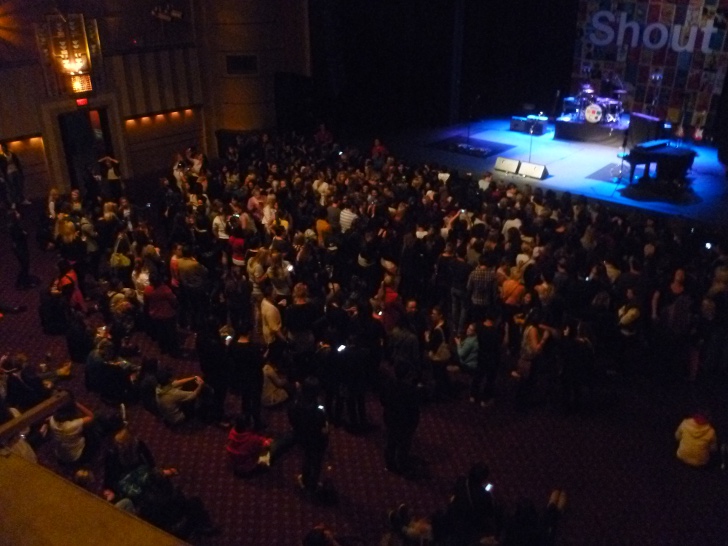 The pit for the show.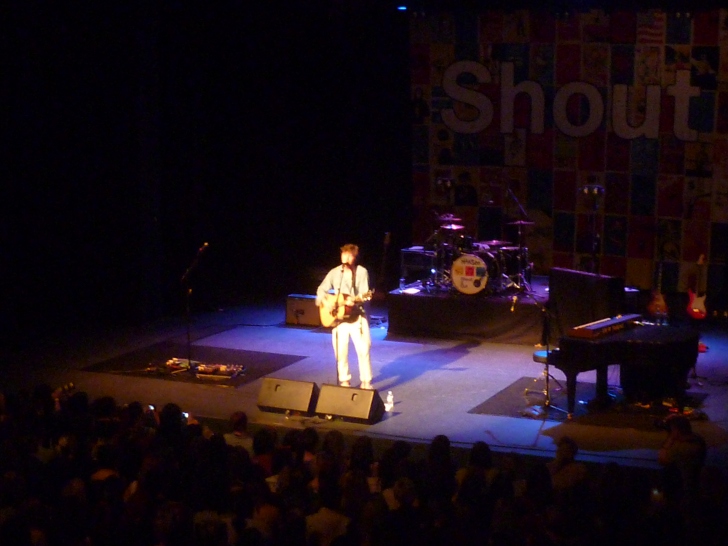 Matt Wertz getting the crowd hyped again.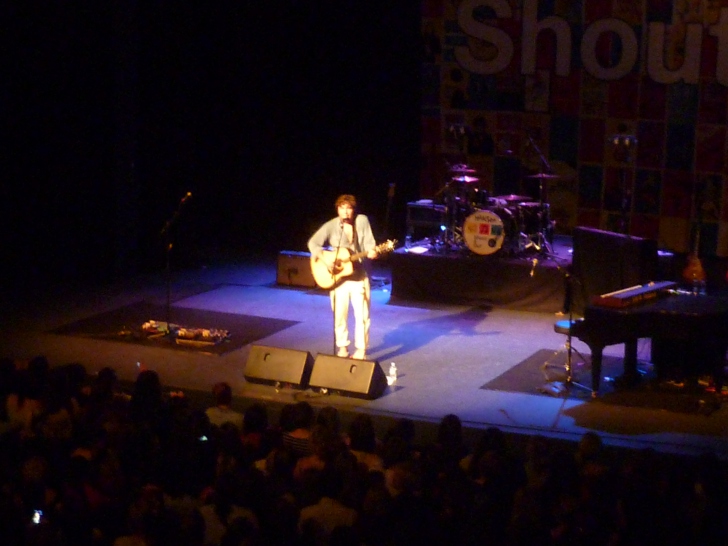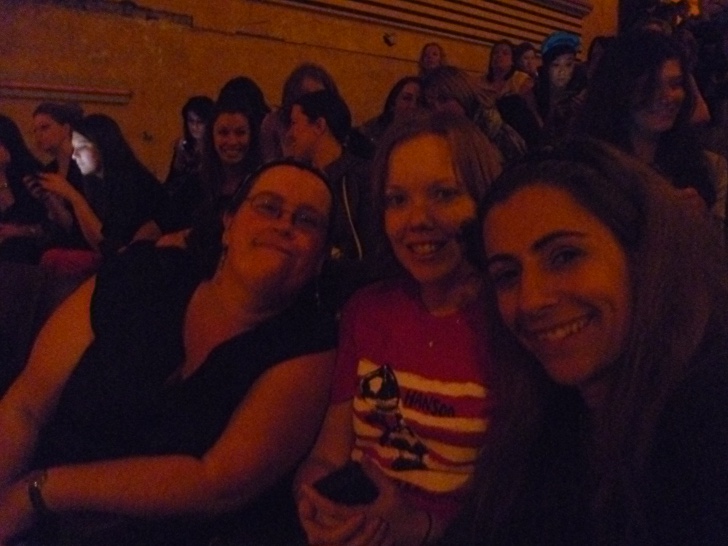 My friends Nicole (middle) and Desiree (right) and I during intermission. Nicole and I have been friends for more than ten years, and we finally got to meet last night. :D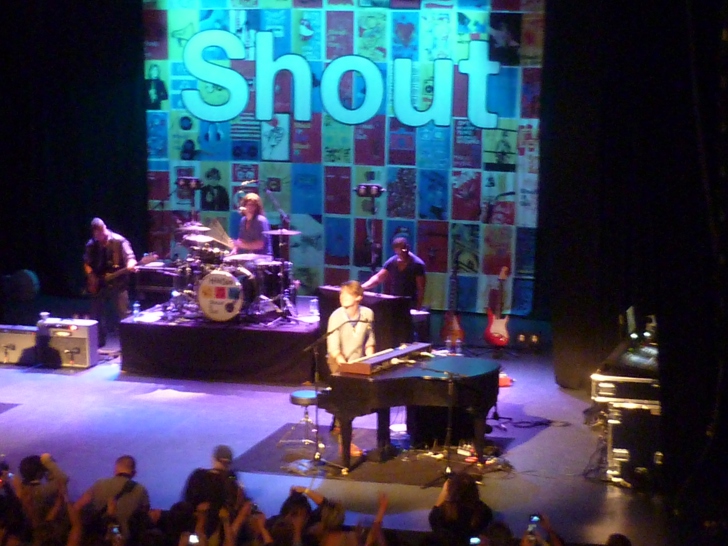 The beginning of Hanson's set.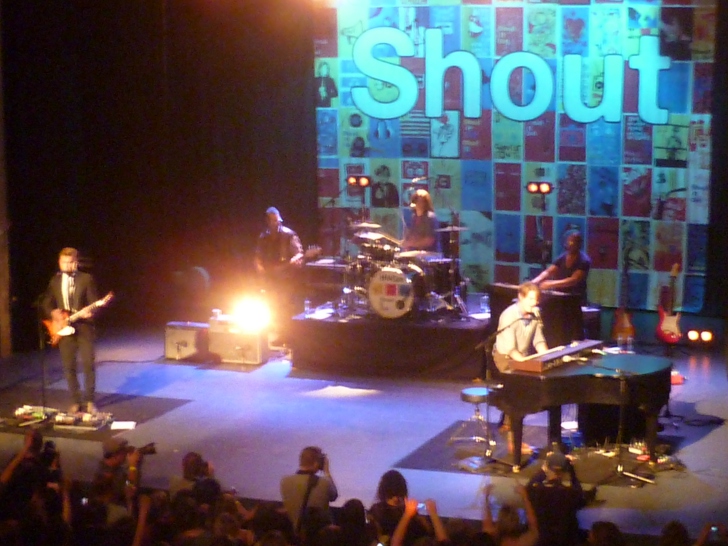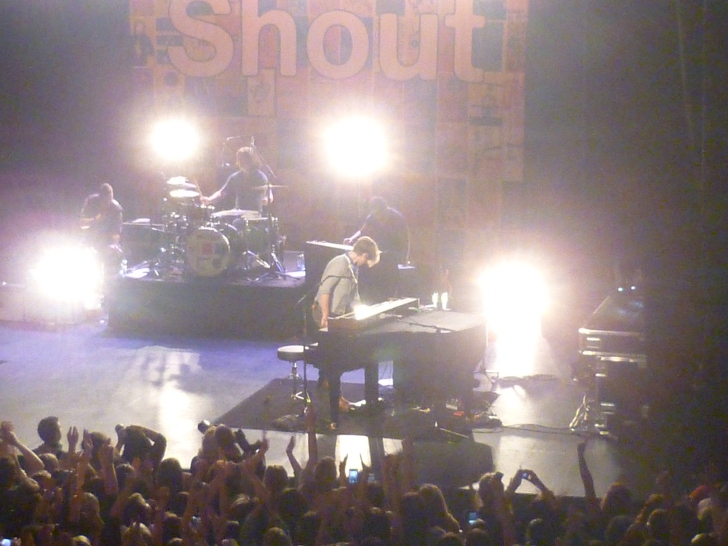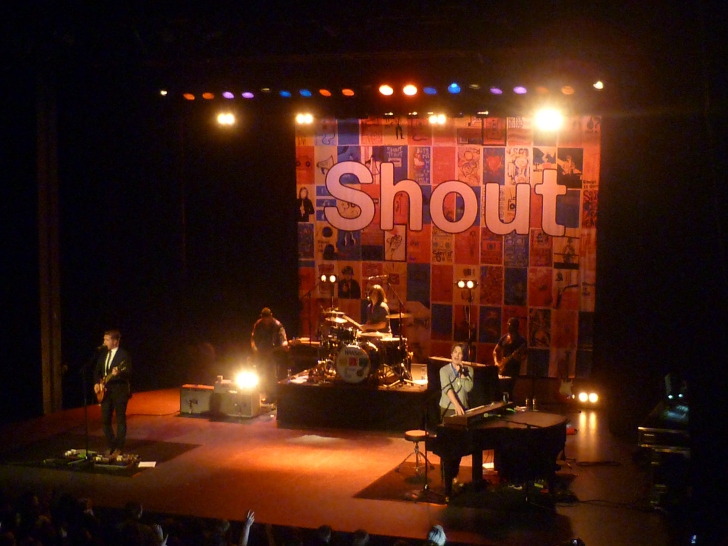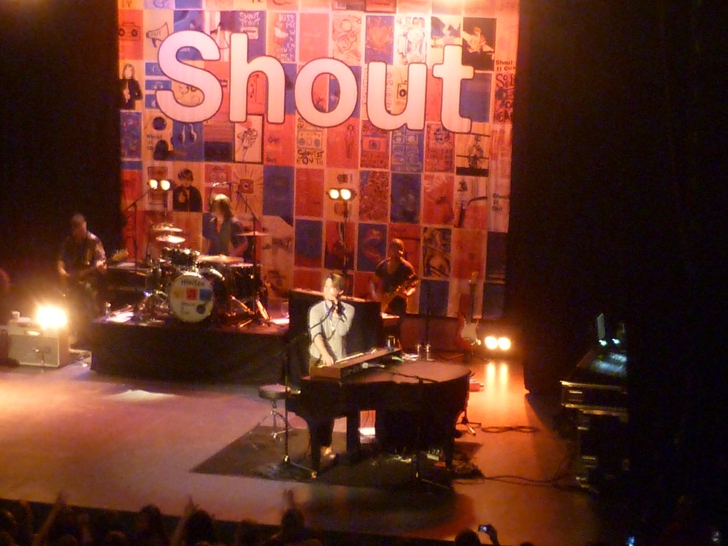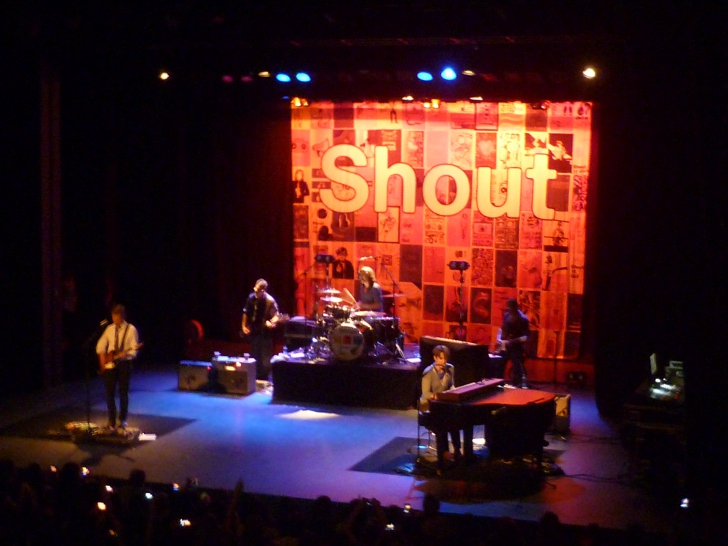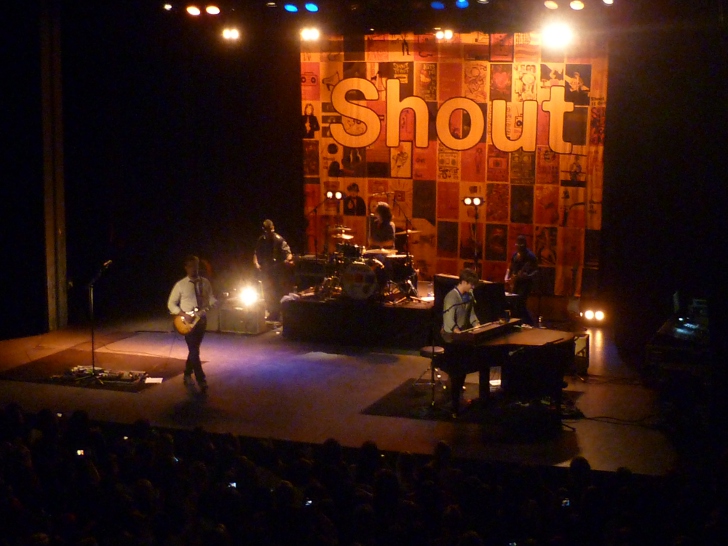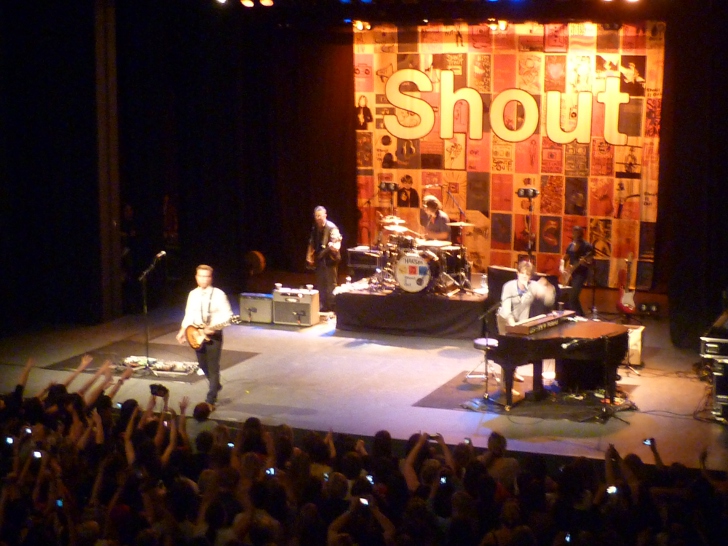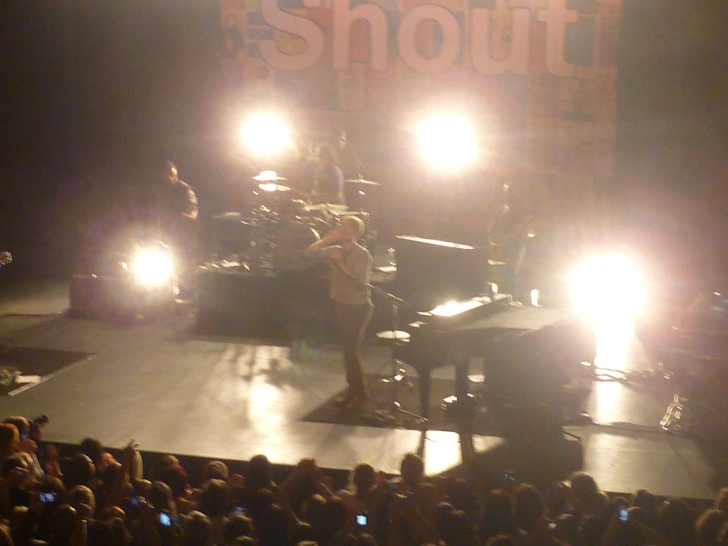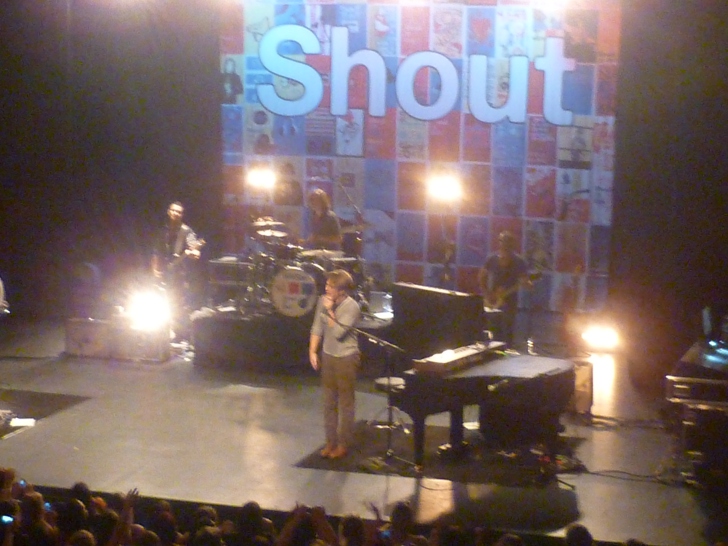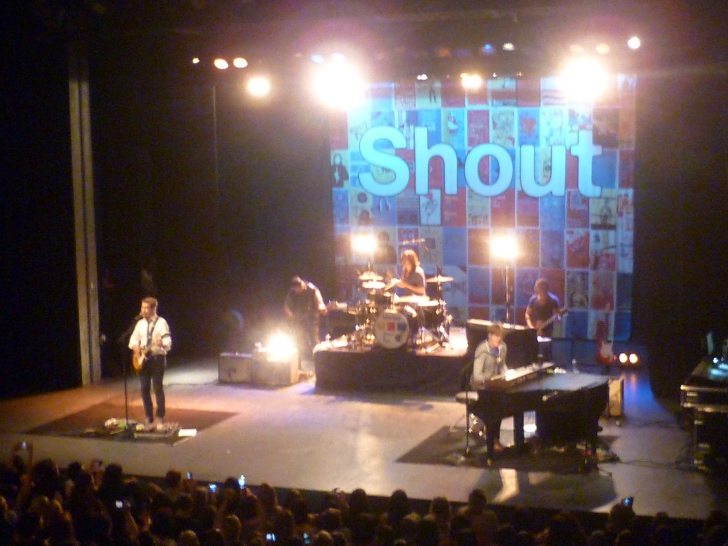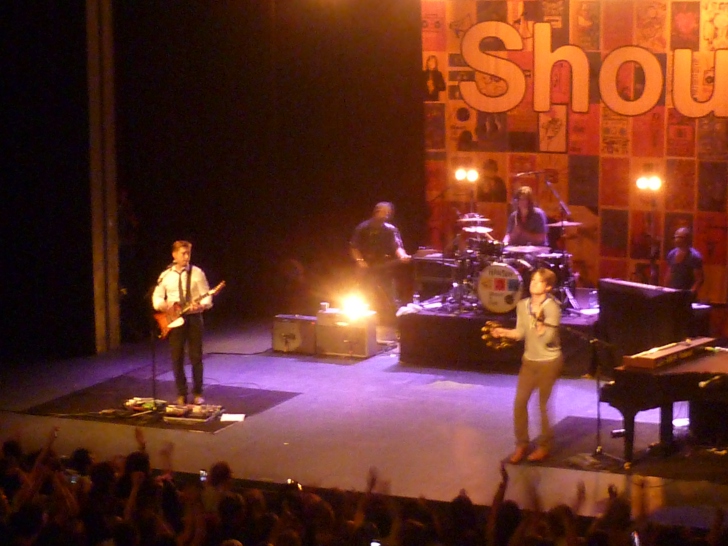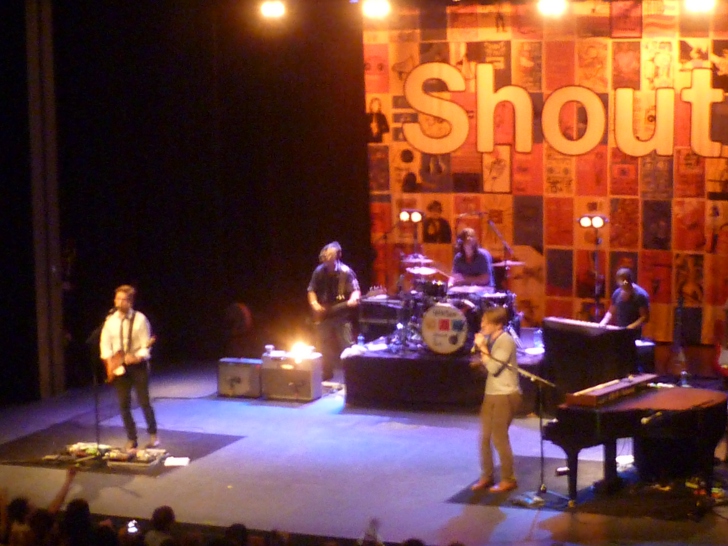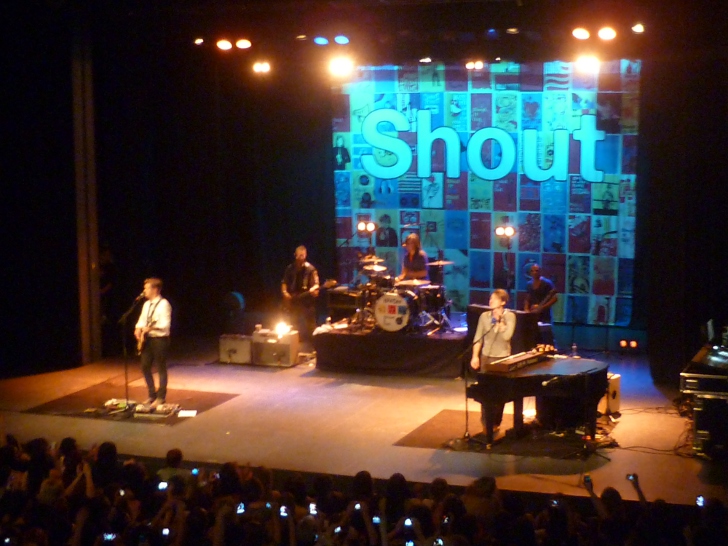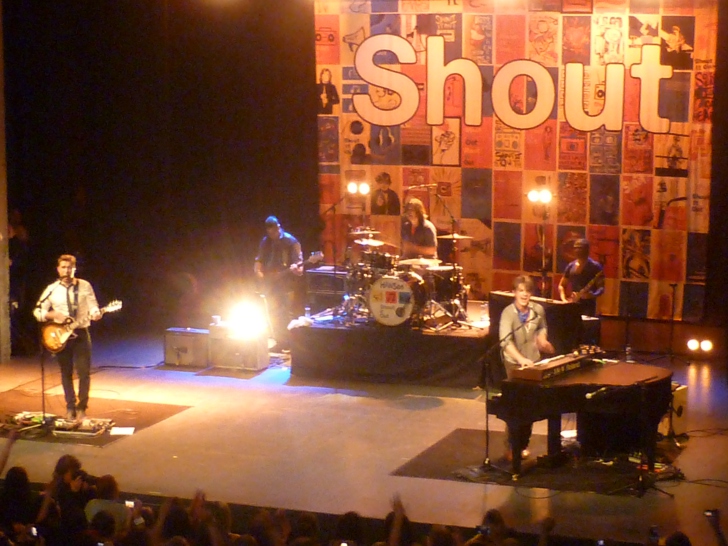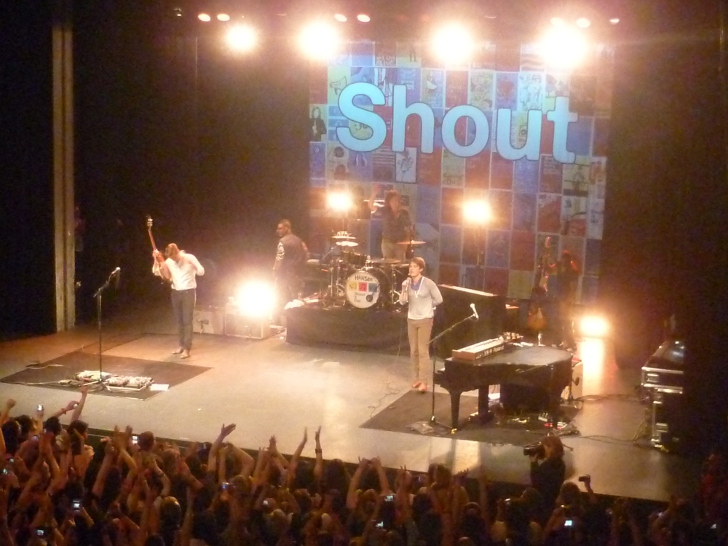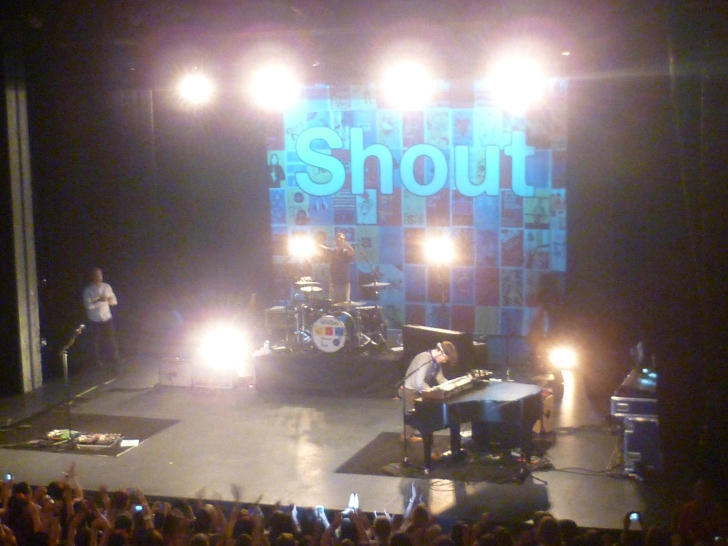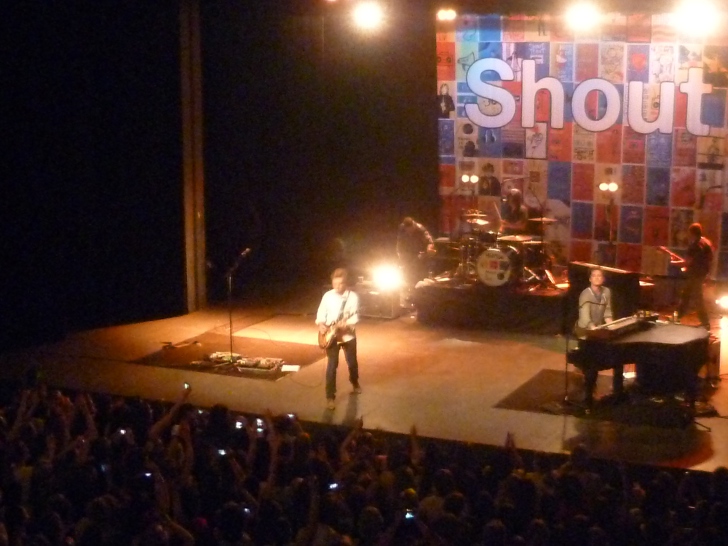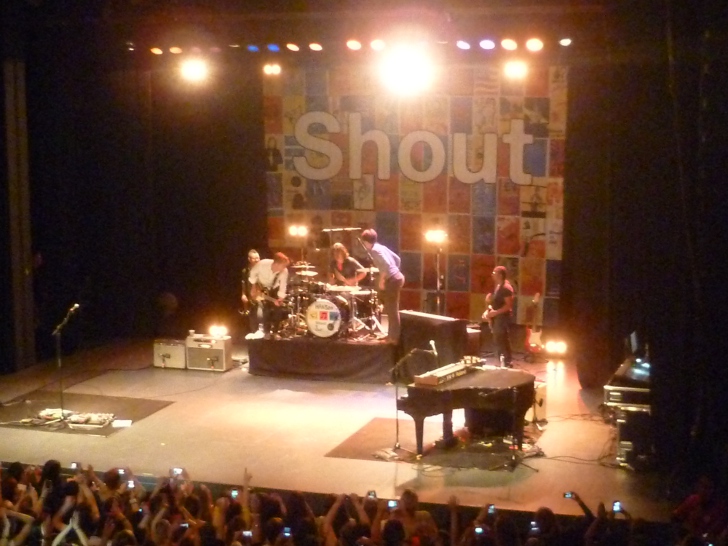 This is how the guys ended the show -- by climbing up on the drum riser. Zac actually climbed up on top of his drums and bashed out one final drum solo.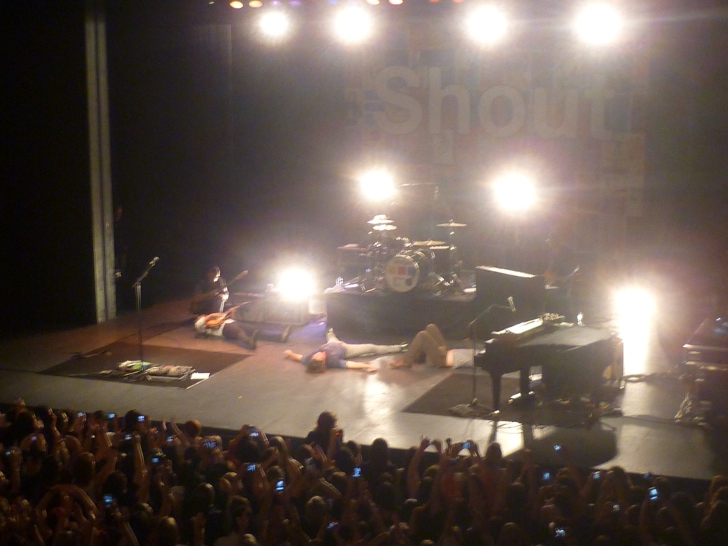 And then they jumped off the drums. :D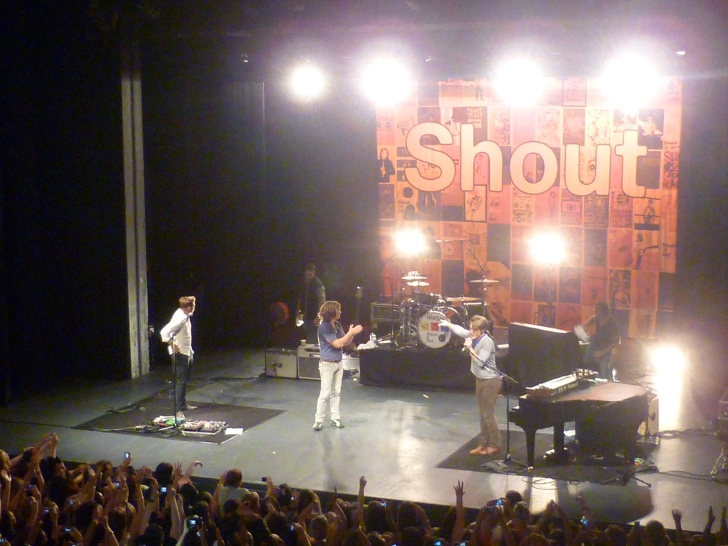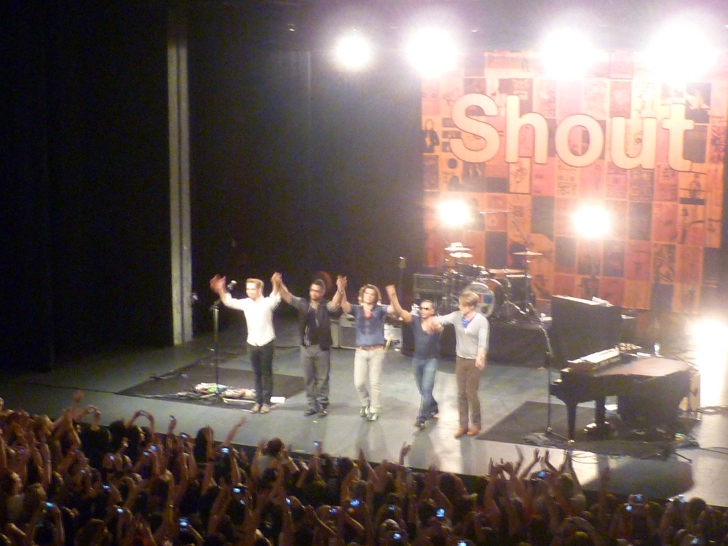 The guys taking their bow with their backing musos.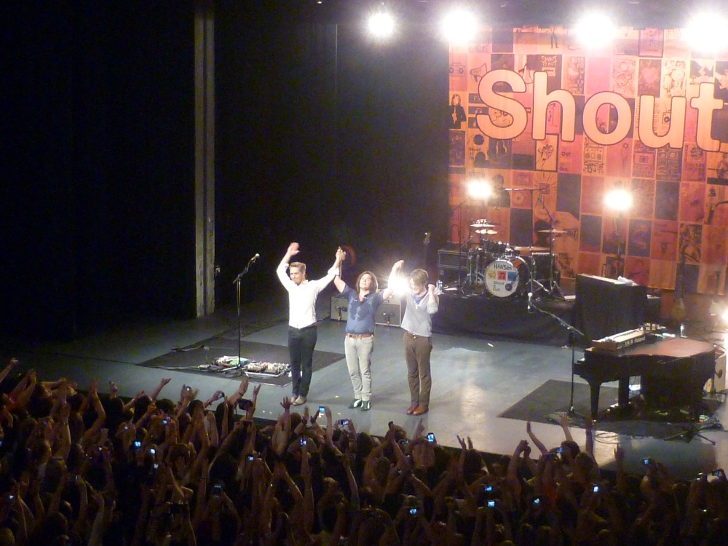 The guys' second bow on their own.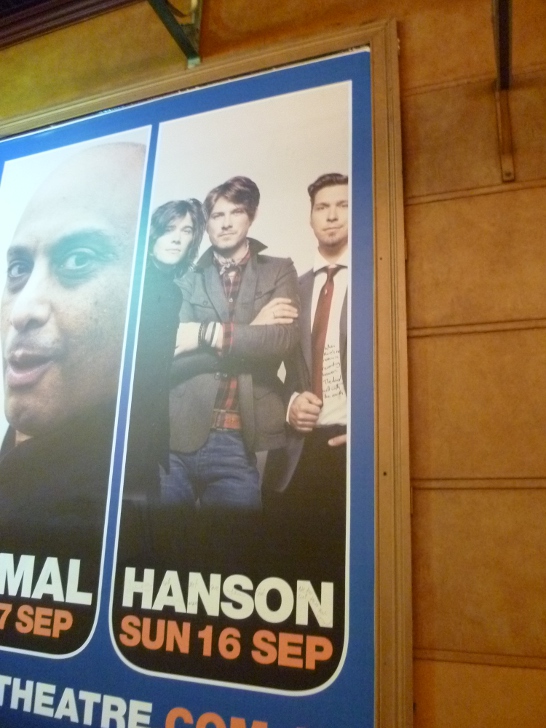 The Enmore's poster for the concert.